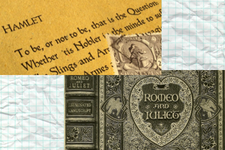 What do Mr. Shakespeare's masterpieces have to do with the paradigm of "Organizational Culture", one might ask. Follow my ideas and you might find something new and practical about the way the "Organizational Culture" paradigm works, just by using stories that apparently shouldn't have anything to do with this paradigm.
Many times when I shared some of my practical cases capturing the negative atmosphere in a particular workplace, I got feedback from some of the professionals listening that they went through exactly the same thing. Every time we went into the details, I've realized that the "same thing" was only the fact that it was an "unpleasant work environment", but from an Organizational Culture point of view, the dysfunctionality was different. From a practitioner's point of view (on Organizational Culture) it is important to correctly identify the main barrier: It is one thing to have "office politics", and another thing to have silos and frictions between departments; it is one thing to have confusing leadership and another thing to not have a clear vision; it is one thing to have many projects and another thing to have people "busy just for the sake of being busy". Identifying the correct state of affairs will allow you to make decisions and focus resources (and only the needed resources) in the right place, and remove those particular barriers fast and for good. It is counterproductive to work on everything or to work on your perception without measuring the environment. No organization in a mature environment can afford to work on everything, and the ones that are monopolies don't have the need to work on anything.
Coming to the comparison with Mr. Shakespeare's dramas we will remove the tragic and the romantic parts so that we are left only with "the atmosphere" and the milder behaviors for which we could find similarities in the corporate world. Most open-minded professionals can agree that in an unpleasant work environment there can be bad leadership, gossip, jealousy, treason, lies, betrayal, cliques, fights, or frictions between teams. The interesting thing when using the Corporate Culture paradigm is that each of these undesirable behaviors or dysfunctional states of affairs is captured on a different dimension of the model and can have different causes, which, of course, require different corrective actions.
Both "Hamlet" and "Romeo and Juliet" are tragedies with undesirable endings, but while in "Hamlet" the overall atmosphere is one of betrayal, revenge, and leadership focused on power versus on a constructive vision, in "Romeo and Juliet", the overall atmosphere is one of rivalry, on fights between teams, on protagonists trying to exhaustingly reach their goals without fixing the state of affairs first. Taking a step back, I highlight that I'm not trying to "fix" the outcomes of Mr. Shakespeare's tragedies, but rather to use these "state of affairs" in order to emphasize that an environment (be that of a corporation, of a state agency, of a small company, or even of a group of citizens that share the same block with their owned or rented apartments) can be captured in a useful manner on several organizational culture dimensions, and further constructive actions can be taken in order to deliver their common goals (as interesting as those might be in the case of the block of co-habitants).
If you feel that you are living a "tragedy" at work, it might be a good reason to evaluate the Organizational Culture or at least the Team culture (see the link below) and find out which "tragedy" you are living: is it a "Hamlet", a "Romeo and Juliet", or maybe you're a skilled and arrogant "Coriolanus", or you work under an altruistic idealistic Cordella in "King Lear".
If nothing else, maybe some of my readers will re-engage with Mr. Shakespeare's masterpieces.
Copyright secured by Digiprove © 2021 George Lupascu-Pruna