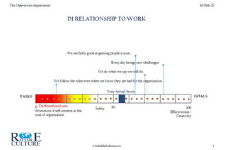 When using the paradigm of Organizational Culture it is very important to use it practically beyond the buoyant words out there, so, in ReliableCulture, we capture the Organizational Culture on several dimensions that allow us to apply the adjustments where they are needed, and ONLY where they are needed in order to drastically improve the way people work together while allowing the organization to keep their resources focused on their mission.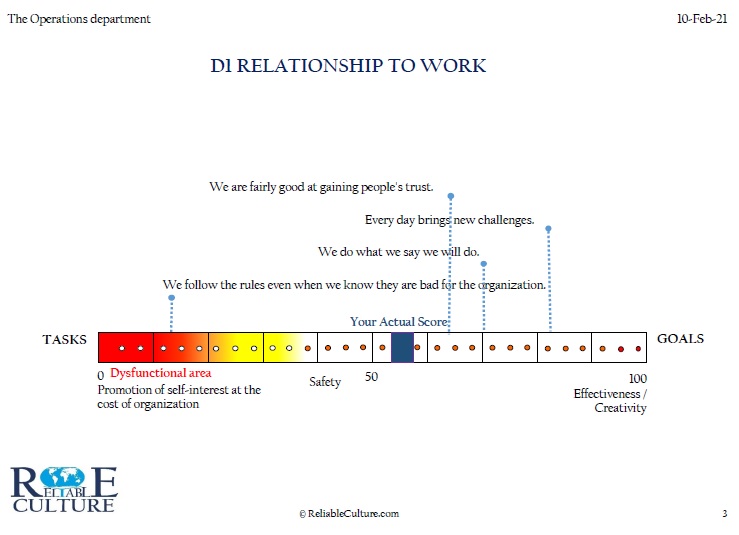 Let's take the Above Dimension: The Relationship to Work.
This dimension tells us whether the way work is being carried out currently is the suitable way. Some questions to ask yourself:
Do people hide behind procedures too much?
Are people taking too many unnecessary risks?
Are you working in a department where routine should be favored over creativity?
Are you trying to pivot the organization and you feel that the majority of the employees do not support that, and it is not clear why?
Do people complain about the leaders not being inspiring?
Do you feel there is too much micro-management, need for control and people seem to have dropped the efficiency since moving online?
This dimension gets you answers to these questions, whether your perception is ok, whether it is actually something else that leads to the unconstructive behavior in the organization, whether the leader's past experience is actually blocking them from understanding how this particular department or organization should develop, etc.
Coupled with the results on the other dimensions you get a good picture of what is going on in your organization, what you already have achieved in terms of group behaviors and expectations, and where would you still need to allocate a minimum of resources in order to continue a healthy development of your organization.
For a limited period of time, we can offer to our new partners the following promotion: